>> ABOUT INNER CORE <<
The
Inner Core
is a producer and DJ crew for Drum and Bass, partially also for other styles of electronical music. Members of the Inner Core Crew are
Rec.effort
,
Brad Allen
,
The Instinct
and
Gauron
.
The style of the Inner Core tunes is as much manifold as the genre Drum and Bass itself. The range of their repertoire stretches from NuSkool Jungle up to Breakcore, while the focus is actually more on the harder stuff. A preview of their Drum and Bass productions you can find on the
Drum & Bass Music
page. It is recommended to visit this page frequently, since new
Inner Core tunes
will be added regularly there, partially even for
free download
.
>> INNER CORE MEMBERS <<
>> Gauron -----------------------------------------------------------------------------------------------------------------
The first time Gauron aka Franksta got in touch with Drum and Bass resp. Jungle was in the year 1994 on the legendary Strictly Breakbeats events in the Hanomag in Hannover / Germany. Since that time his heart beats in breakbeats. Turntables and an Atari ST-FM loaded with Cubase were the life saving therapy. Both as Drum and Bass producer and as DJ he favours mainly Nuskool-Jungle, Raggacore, Breakcore, Techno-DnB and Drumfunk. This manifold influences are reflected in his own Drum and Bass productions.
>> The Instinct -----------------------------------------------------------------------------------------------------------
It was in 1998 when The Instinct extended his household by two turntables. Although Techno was his weapon of choice at this time, The Instinct came to Drum and Bass soon. Nowadays The Instinct is one of the most talented DJ acts. Once at the decks his energy is all over the place. His die-hard fast and uncompromising style mixed with double drops, teases and influences from Metal to Dancehall, from Hardcore to Techno Drum and Bass makes him to a real killing and unique experience.
>> Rec.effort -------------------------------------------------------------------------------------------------------------
Rec.effort (formerly "Fredrickz") has been infected with broken beats on a car ride at night in the year 2001, when he was listening the "DC's Drum and Bass" radio show. The next day he could be found in a record store buying tons of new footage for his turntables. Rec.effort´s DJ sets have stylistically a wide range and his mixing skillz are as such tricky and precise that you fall in love quickly with his DJ shows. From Liquid Drum and Bass to Nuskool Jungle up to Drumfunk you can expect all that grooves - whereby it is not seldom, that he pulls an Oldschool Jungle vinyl out of his case too.
>> Brad Allen -------------------------------------------------------------------------------------------------------------
Brad Allen is a pure producer part of the Inner Core Crew. His musical passion and skillz are not limited to any styles or genres. All that rocks and joys is implemented in his Drum and Bass or Breakbeat productions. Therefore it is a mark, that his tunes are absolutely manifold and creative, which often unite several styles in one. There is no instrument, which Brad Allen cannot play. Thus is not seldom, that whole parts of his tracks are played in live, for instance by guitar, bass or drums. Brad Allen joined the Inner Core Crew in April 2008.
>> INNER CORE HISTORY <<
DJ Nightshot, The Instinct, Rec.effort (formerly "Fredrickz") and Gauron (aka Franksta) were members of the
Bioton - Crew
from Bielefeld, which has been separated in March 2007. In northern Germany the Bioton Crew mainly became famous by organizing, promoting and playing on periodical Drum and Bass club nights.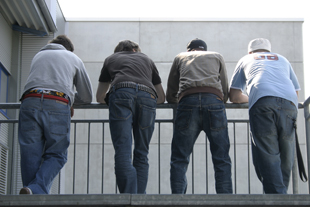 Undersound - Clubnight @ Ringlokschuppen / Bielefeld
Back2back - Sessions @ Musikbox / Minden
Destiny´s Bass @ 4rooms - Club / Gütersloh
Overdrive @ Alte Pauline / Detmold
Breaknights - The Lounge @ Pulverturm / Lemgo
Besides own DnB club nights - which took place once a month - the Bioton DJs had a lot of gigs on many other Drum and Bass events as for instance @ Aladin (Bremen), Morph Club (Bamberg), Climax (Stuttgart), Falkendom (Bielefeld), JZ-Kamp (Bielefeld), Warehouse (Bielefeld), Hechelei (Bielefeld), AJZ (Bielefeld), Ostbahnhof (Bielefeld), Woodsrock - Festival (Extertal), Area 51 (Minden), and many more.
Franksta, Fredrickz and DJ Nightshot had from April 2005 till April 2007 their own Drum and Bass radio show on
Radio Triquency
. The show - called
"Breaknights"
- has been broadcasted every Friday from 8 to 10 o'clock p.m. via V.H.F. (resp. FM) in the cities of Lemgo, Detmold and Höxter, as well as via internet stream worldwide.
While the show masters put hands on the turntables by themselves during the first hour of the show, as well as providing the latest news around the Drum and Bass scene, the second hour has been used to present a mix set of a guest DJ.
Besides German DnB DJs like
The Green Man
(Basswerk),
B:Fuse
,
G-I-S
(Intransigent Rec.),
BassTikal
(Phunkfiction Rec.),
Homebass
and
Sahara
(Destination Rec.), even famous international Drum and Bass acts like
Kubiks
(Rubik-Rec./ UK),
Phatsta aka Bad Robot
(Australia) and
DJ Code
(Sketch and Code / UK) already were Breaknights guest DJs.
From December 2006 to July 2008 the Inner Core Crew organized every first Saturday of the month the
Back2Back-Session
at the Musikbox in Minden. The concept of this Drum and Bass clubnight distinguished oneself, that all Drum and Bass styles have been played - from Liquid Drum and Bass over NuSkool Jungle, Drumfunk, Neurofunk uo to Breakcore. Here the principle has counted "the later the night, the harder the beats". As support and for a musical change the Inner Core DJs have invited at least one guest DJ for each session.
>> INNER CORE TODAY <<
Presently the focus of the Inner Core Crew is mainly on producing Drum and Bass tunes. Nevertheless there will be news in matters of Drum and Bass events soon. This time the Inner Core Crew is working on a concept for a new Drum and Bass party series in Eastwestfalia. The details we will provide on our news page soon.
Also the Inner Core DJs are booked frequently for DnB parties in whole Germany and partially even in other countries of Europe. Photos and videos of different Drum and Bass events with Inner Core you can watch in the
Inner Core Pics & Vids
- gallery.